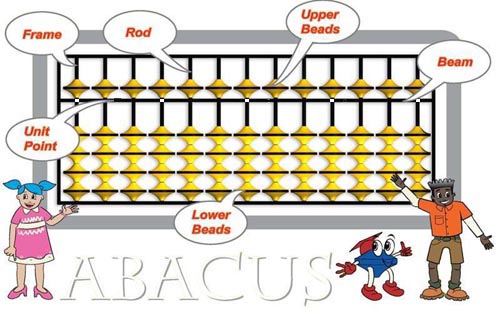 "BRAIN BOOSTERS" Programmes are highly structured programmes available to sharpen your child's mental maths skill through the ancient tool i.e. ABACUS.
Abacus For Tiny Tots (Age Group 5-7 yrs.)
Mental Arithmetic (Abacus) (Age Group 7-14 years)
Vedic Maths (Age Group 13yrs. Onwards)
Do You feel that your child is facing these problems like :
Lack of Concentration.

Lack of Self confidence.

Lack of True Performance.

Lack of Grassping Power.

Lack of Interest in Studies.

Lack of Creativity.
The schedule Of the Programme of the courses offered are appended below for your perusal please.
Courses
Age Group
Duration
Classes

Mental Arithmetic
Through Abacus

(8 levels ; 3 months each)

7 to 14 years
2 Hours
once in a week

Vedic Maths

(4 parts)

13 years onwards
1 1/2 Hours
once in a week

Abacus for Tiny Tots

(4 parts)

5 to 7 years
2 Hours
once in a week